Ridingcolombia is an  international horseback riding and hiking tour operator. It is located in Bogota, Colombia. The company provides tailor-made horse riding holidays and hiking ecotourism experiences focused on international tourists who are intermediate or advance riders. Ridingcolombia was created on June 2012. 
It has around 50 excelent reviews on tripadvisor. http://bit.ly/Tripadvisor-reviews-of-Ridingcolombia
The Ridingcolombia´s owner is Hernando Rivas. He will be your tour guide.
Hernando will personally design an ecotourism private horse riding experience to meet your needs and budget. Hernando is not just your guide; he is the owner of  Rivas Riding Colombia and he is a passionate advanced horse rider. By not having to deal with an agency or third party you eliminate the possibility that your private trip will not match the private plan you developed. Additionally, if a problem does arise, an owner, who speaks English, is in a position to deal with them immediately.
Hernando has a professional degree in Business Administration from "Los Andes University" in Bogotá, with advanced studies in Corporate Finance at Golden Gate University in San Francisco, California. He worked for over 10 years in the financial sector and he currently owns a corporate finance advisory company and Rivas Riding Colombia ecotourism company.

All his life, Hernando´s passions have been horse riding and hiking. 
During college, he created the Mountain Group of the University and served as president, hike organizer, and mountain guide. 

After college, Hernando created horse riding and mountain trekking groups. For more than 12 years, he has organized and participated as a mountain guide and horse riding leader. He always focused his holidays abroad on ecotourism activities, hiking, and riding to natural sites and typical villages in Spain, Italy, France, the USA, Argentina, Chile, Peru, and Costa Rica.
Hernando's knowledge and experience allow him to structure a private ecotourism experience that his clients will always remember. If you are coming to Colombia, please allow Hernando to plan part of your private trip.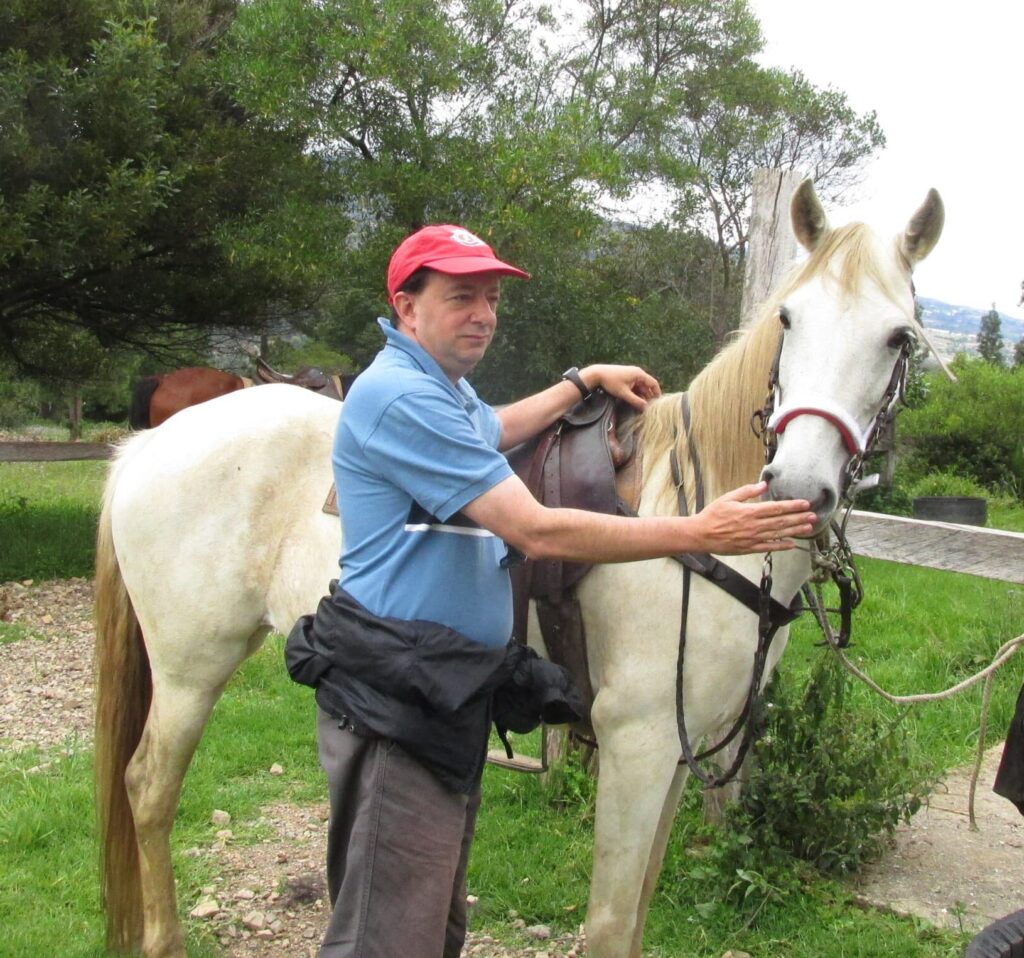 Lucia's knowledge of the names and characteristics of the plants you will encounter while riding and hiking will enrich your experience. She also is an experienced mountain guide who has organized and led horseback rides and hikes in different countries. Lucia speaks English and French.
We count on a group of trained people on this type of activities that can support us depending on the needs.