By Lucia Lozano
Colombia is a tropical country; so, some people may think that the principal touristic places are beaches, jungle and big cities like Bogota and Medellin, but Colombia is more than that, our country has a lot of beautiful natural places to visit. Colombia has three mountain ranges, giving the country the fortune of having places with hot, mild or cold weather year around. For example if you visit Bogota, for us is a cold weather city, but if you live in a country with stations it should be like the beginning of spring. From Bogota, you may take a car and after three hours drive you may arrive to a place of 30ºC (86 F); also, you can travel for about an hour and find one of the unique ecosystem of Colombia, the Paramo.
You may be wondering, what is so special about Paramo? So, let me tell you…
Paramo is a common name in Colombia; but, for me it is not easy to decide what should be the best word in English to name this beautiful ecosystem. For example, in biology books the name is heath, and in dictionaries you may found also the word wasteland and moorland because Paramo was named by the Spanish conquers after the desolated flat terrains found in Spain, but tropical Paramo has little in common with the ones that inspired its name.
Paramo only located in tropical high mountains, above 3000 meters (9840 feet), so it´s only found in Colombia, Ecuador, Peru and Venezuela. Also, Paramo has special vegetation with unique species as the frailejon. In paramo the plants know how protect themselves of the changing weather from a sunny or misty day to a frost nights; so, you may see a miniature world of plants and small flowers in the middle of the pajonal ( grass) and frailejones (a shrub that could be 30 cm to 3 meters (1 to .10 feet) high.
In Colombia some Paramo´s lakes were sacred placed for Indian cultures. For example, Muiscas went to Siecha and Guatavita to give tribute to their gods. The Zipa completely covered in gold dust traveled in a raft to the center of the lake and dived into the waters; also jewelry and precious objects were thrown into the waters, giving place to El Dorado legend. That is the reason why the Spanish conquistadors built tunnels in order to extract the gold.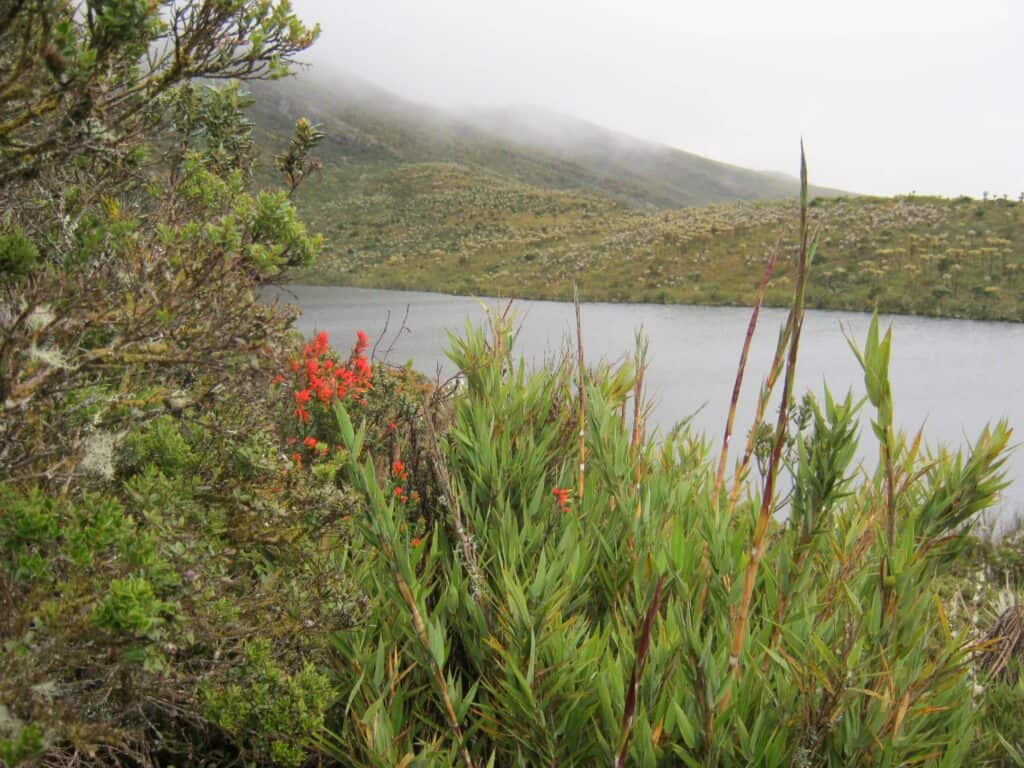 Paramo is not only marvelous to biologist, In Colombia, is a usual destination for hiking lovers and hiking groups, because Paramos are protected area, and some are in National Parks; so, you may hike short or long distances enjoying wonderful landscape. I've visit Paramos most of the time with engineers, layers and different people who doesn't have special interest in biology and they love them. Sometimes you walk in the middle of a mysterious mist and suddenly it clears up and you see mountains surrounding a vast extension of land covered of green and yellow vegetation mix with yellow, purple, pink and blue flowers, which are sometimes big as a daisy, but other times small as a pea.
It sounds strange, but in Bogota we have Paramo like a backyard, giving us the privilege of having this exotic ecosystem and place to visit. Therefore, if you are in Bogota you can travel with Rivas Ridingcolombia to visit Paramos at the beautiful and mythological Siecha lake, and Guatavita lake. Visit our one day hiking tours at One Day Private Hiking Tour